Posted on
November 1st, 2012
by soxtalon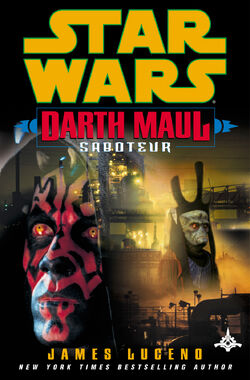 Darth Maul: Saboteur
Written by James Luceno
Another shortish story, that was originally an e-book, Saboteur really serves as a prequel to two stories – Luceno's own Cloak of Deception and Michael Reaves' Darth Maul: Shadow Hunter. Introducing Darth Maul to Sidious' political maneuvering adds a great element of intrigue. Also seeing Maul perform a task of subtlety (at least for him) works well.
Luceno's style is one I usually can appreciate, although at times he can gloss over details. I was afraid with this short tale that it might be the case here, but I was happy to be wrong. There was just enough details about the lives of the down trodden lommite miners and their struggles with a bigger corporation that it seemed a genuine story.
Connecting the task of Maul to the overall scheme of setting up events of Episode I also serves as a way to hook readers into caring rather than some sidebar mission that means little to the overall universe. It worked in Cloak of Deception in the same fashion.
The little action that is in the short story is top notch as well which makes for a fairly complete overall story.
B
-Paul Talon
Topics: Darth Maul, Darth Sidious, James Luceno
Filed under: Rise Of The Empire Era, Short Story, Star Wars Literature Review